Tripawds is a user-supported community. Thank you for your support!
Ginger was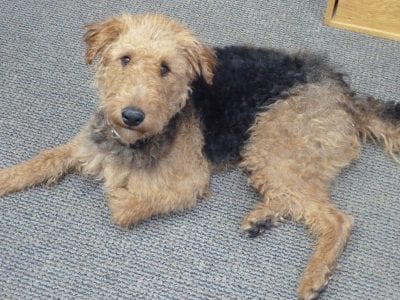 "dumped" on us by a customer when Ginger was 19 months old.  We had agreed to bring her home for the weekend for a "test drive" to see how she got along with our cats, after losing our beloved black lab 5 months ago.  The customer had helped the breeder place puppies from a large litter into homes, and this was the last one she couldn't place.  Ginger was tall, skinny and as scruffy as could be, so we gave her a bath and trimmed off her dreadlocks.  After her bath (probably her first ever), she didn't want to come inside so we let her stay in the yard.
All of a sudden, there was this huge ruckus at the gate — and we saw Ginger outside the front of the house.  We assumed she hopped the 6′ fence.  After researching fence hopping, we were afraid this was a bad habit that would be hard to break and she'd get hurt.  There is a 10′ drop behind the back wall and a busy street out front.  We tried calling, texting and emailing the customer to tell her we loved the dog and she did well with the cats, but we were afraid she'd get hurt hopping the fence and escaping.  The customer never returned any of our messages.
The next business day, we told several of our customers about Ginger; and word traveled fast.  The very next day, the original breeders walked in our door.  They loved Ginger and Ginger clearly loved them!  They were willing to take Ginger; but we were already in love with her and wanted to try again.  The next weekend we left her in the yard, but we waited out front for 30 minutes to see if this big dog came flying over the fence.  No flying dog, so we ran our errands.  When we got home Ginger was in the house; and we thought, "Great, no problem."  Then our neighbor came over to tell us he'd rescued our new dog.  When he brought her home, she crawled back through a 6″ x 8″ slat hole in the fence (that we had purposely left for our cats) into our yard, and he blocked the hole.  No more escape artist.  She was so underweight (40 pounds instead of 70) that, somehow, she had squeezed through that small hole!
It was meant to be — Ginger was ours.  And, it was the beginning of a wonderful love story.