Tripawds is a user-supported community. Thank you for your support!
Over the first several months of having Ginger, she was still shy.  The customer who had dumped her on us told her she wasn't very smart.  She only knew how to sit.  But no one had ever spent any time with her.  We learned that Airedales are smart.  Ginger was learning and thriving.  She quickly learned many more commands:  down, stay, leave it, drop it, come, off, and stand (some with hand signals and a whistle for come, too).
After we had her for 3 months (just shy of 2 years old), we heard Ginger bark.  She was finally allowing her personality to reveal itself.   She also exhibited normal puppy behavior.  Like, chewing up my stuff at the side of the bed when we left her for a little while (not my husband's, just mine.)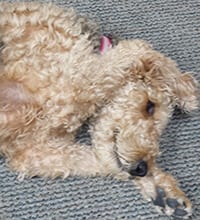 We also learned that Airedales are stubborn and very independent.   She was house-broken when we got her.  But if she didn't need to potty at night before going to bed, she'd just sit or lay down in the grass and wait for you to decide to take her back in the house.  We learned the hard way that we needed to close her in the bedroom with us at night.  Otherwise, if she needed to poop in the middle of the night, she'd sneak downstairs and take care of business in the living room – all on her own.
We learned that the Airedale grooming cut was too stark and masculine for our girl.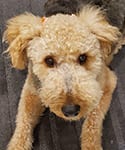 Only once did we have Ginger cut in the Airedale cut; after that it was a puppy cut with a teddy bear head.  Everyone always told us she looked like a big teddy bear; although one little girl said Ginger looked just like Ashley Tisdale.
We learned that Airedales are scrappy, fearless and won't back down from a fight.  They always want to play; but if the other dog wants to fight, okay, then let's fight.  We learned the hard way — by paying for vet bills of two other dogs that started the fight.

We learned that Airedales are fun, funny and goofy.  What fun we had at her second birthday party!  Ginger (at 70 pounds) was joined by her sister, Harlowe (80 pounds), father, Murphy (90 pounds) and brother, Marlowe (100 pounds) when Marlowe's parents hosted the birthday party.  Watching four big dogs run, play, slobber, and beg for treats was hilarious fun — both for the dogs and us family members.  It was so much fun, we did it again for their fourth birthday.

And, we learned that Airedales believe in Santa.  This photo proves it.